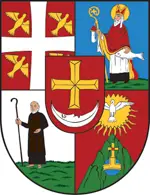 Wien 7.,Neubau
Bezirk
---
Basic information
Name

Wien 7.,Neubau

Status

Bezirk

Population

32.467

Territory

1,61 km²

Population Density

19.692,54 people/km²

Federal State

District

Car plate

W

Topography

Landscape

Constituency
Surface use
Wood

0.00%

Alps

0.00%

Rocks

0.00%

Fields, pastures

0.00%

Permanent crops

0.00%

Viniculture

0.00

Operational areas

0.00%

Leisure areas

3.90%

Gardens

5.55%

Rivers, brooks

0.00%

Lakes, ponds

0.00%
Individual analyses & visualisations
Wien 7.,Neubau: Description
The Seventh Vienna Municipal District is a Viennese inner-city district consisting of districts such as Schottenfeld and Spittelberg. The actual centre of the district is the Mariahilferstraße, which separates the sixth from the seventh district. One of the district's sights is the Museumsquartier, which is home to a large number of museums and is also a popular meeting place.
Wien 7.,Neubau: Contact information
Address

: 1070 Wien, Hermanngasse 24-26

Telephone

: +43 1 4000-07000

Website

: wien.gv.at

Email

:

[email protected]

Mayor

: Dr. Michael Ludwig
Wien 7.,Neubau: Main postcode (ZIP code): 1070
Additional ZIP Code(s): 1010
Towns & cadastral municipalities: Wien, Neubau.