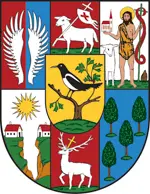 Wien 9.,Alsergrund
Bezirk
---
Basic information
Name

Wien 9.,Alsergrund

Status

Bezirk

Population

42.547

Territory

2,97 km²

Population Density

14.234,34 people/km²

Federal State

District

Car plate

W

Topography

Landscape

Constituency
Surface use
Wood

0.00%

Alps

0.00%

Rocks

0.00%

Fields, pastures

0.00%

Permanent crops

0.00%

Viniculture

0.00

Operational areas

0.56%

Leisure areas

2.39%

Gardens

15.61%

Rivers, brooks

0.14%

Lakes, ponds

0.00%
Individual analyses & visualisations
Wien 9.,Alsergrund: Description
The Ninth Vienna Municipal District is a Viennese inner-city district that includes districts such as Roßau and Michelbeuern. The district is home to a large number of university facilities as well as the Franz-Josefs railway station. Popular cultural institutions of the district are the Volksoper and the WUK.
Wien 9.,Alsergrund: Contact information
Address

: 1090 Wien, Alserbachstraße 41

Telephone

: +43 1 4000-09000

Website

: wien.gv.at

Email

:

[email protected]

Mayor

: Dr. Michael Ludwig
Wien 9.,Alsergrund: Main postcode (ZIP code): 1090
Additional ZIP Code(s): 1010
Towns & cadastral municipalities: Wien, Alsergrund.