On this page users will find all relevant information about the Bezirk Wien 23.,Liesing. On the interactive map, users can view the geographical features of the municipality and switch to a neighbouring municipality with just one click. At the bottom left of the map, there is a button that allows users to switch between the cartographic display and the aerial photographs of the municipality. Below the map the Bezirk Wien 23.,Liesing contains detailed information about the municipality. This information includes a general description of the municipality, key figures and the area use of the municipality. In addition, users can also access the map of the municipality's companies and institutions by clicking on the company buttons. In addition to this further information on the Wien 23.,Liesing Bezirk and the presentation of the companies on the map, users can also explore detailed statistics and other interactive maps on topics such as land prices, population development and unemployment in the municipality Wien 23.,Liesing in the subject area.
Bezirk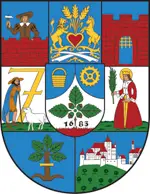 Wien 23.,Liesing
Surface use
| | |
| --- | --- |
| Wood | 15.37% |
| Alps | 0.00% |
| Rocks | 0.00% |
| Fields, pastures | 5.54% |
| Permanent crops | 0.82% |
| Viniculture | 1.48% |
| Operational areas | 10.91% |
| Leisure areas | 5.04% |
| Gardens | 25.88% |
| Rivers, brooks | 0.27% |
| Lakes, ponds | 0.31% |
Due to the current measures of the federal government to contain the Corona Pandemic (COVID-19), the current unemployment rate is unfortunately higher, but the number of commuters is lower than in the municipality statistics published here.
Wien 23.,Liesing: Description
The twenty-third district of Vienna is a Vienna outer and territorial district located in the southwest of the city. The district consists among others of the districts Inzersdorf, Liesing and Siebenhirten. All districts of the district have their own cemetery. The Alterlaa residential park, which was built in the seventies, enjoys special architectural fame.
Wien 23.,Liesing: Contact information
Wien 23.,Liesing: Neighboring municipalities
Wien 23.,Liesing: Main postcode (ZIP code): 1230
additional ZIP Code(s): 1100
Towns & cadastral municipalities: Wien, Liesing.
---
Is there something missing on this page from your point of view? Then please send us descriptions, articles or photos to
[email protected]
---