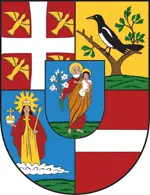 Wien 8.,Josefstadt
Bezirk
---
Basic information
Name

Wien 8.,Josefstadt

Status

Bezirk

Population

25.662

Territory

1,09 km²

Population Density

22.888,99 people/km²

Federal State

District

Car plate

W

Topography

Landscape

Constituency
Surface use
Wood

0.00%

Alps

0.00%

Rocks

0.00%

Fields, pastures

0.00%

Permanent crops

0.00%

Viniculture

0.00

Operational areas

0.00%

Leisure areas

1.69%

Gardens

11.21%

Rivers, brooks

0.00%

Lakes, ponds

0.00%
Individual analyses & visualisations
Wien 8.,Josefstadt: Description
The Eighth Vienna Municipal District is a Vienna inner-city district and the smallest district of the city in terms of area. The district's sights include the Theater an der Josefstadt and the Palais Auersperg. The district's central traffic junctions include the former Zweierlinie and Josefstädter Straße.
Wien 8.,Josefstadt: Contact information
Address

: 1010 Wien, Wipplingerstraße 8

Telephone

: +43 1 4000-08000

Website

: wien.gv.at

Email

:

[email protected]

Mayor

: Dr. Michael Ludwig
Wien 8.,Josefstadt: Main postcode (ZIP code): 1080
Towns & cadastral municipalities: Wien, Josefstadt.