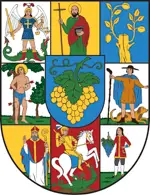 Wien 19.,Döbling
Bezirk
---
Basic information
Name

Wien 19.,Döbling

Status

Bezirk

Population

72.650

Territory

24,94 km²

Population Density

2.854,00 people/km²

Federal State

District

Car plate

W

Topography

Landscape

Constituency
Surface use
Wood

26.20%

Alps

0.00%

Rocks

0.00%

Fields, pastures

2.67%

Permanent crops

0.03%

Viniculture

14.47

Operational areas

1.93%

Leisure areas

2.84%

Gardens

26.41%

Rivers, brooks

0.50%

Lakes, ponds

0.01%
Individual analyses & visualisations
Wien 19.,Döbling: Description
The Neunzehnte Wiener Gemeindebezirk (Nineteenth District of Vienna) is a Viennese outskirts and district, which is located in the north of the city and includes districts such as Grinzing, Heiligenstadt, Nussdorf and Sievering. From an economic point of view, wine-growing is a special feature of the district. Among the sights are the Karl-Marx-Hof, the Kahlenberg and the Heiligenstädter Park. The district is considered a noble district.
Wien 19.,Döbling: Contact information
Address

: 1190 Wien, Pfarrwiesengasse 23C

Telephone

: +43 1 4000-18000

Website

: wien.gv.at

Email

:

[email protected]

Mayor

: Dr. Michael Ludwig
Wien 19.,Döbling: Main postcode (ZIP code): 1190
Towns & cadastral municipalities: Wien, Döbling.