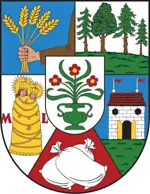 Wien 21.,Floridsdorf
Bezirk
---
Basic information
Name

Wien 21.,Floridsdorf

Status

Bezirk

Population

162.779

Territory

44,44 km²

Population Density

3.484,56 people/km²

Federal State

District

Car plate

W

Topography

Landscape

Constituency
Surface use
Wood

3.84%

Alps

0.00%

Rocks

0.00%

Fields, pastures

17.40%

Permanent crops

1.05%

Viniculture

5.82

Operational areas

6.75%

Leisure areas

6.43%

Gardens

21.82%

Rivers, brooks

6.15%

Lakes, ponds

0.67%
Individual analyses & visualisations
Wien 21.,Floridsdorf: Description
The twenty-first district of Vienna is a Vienna outer and territorial district located in the north of the city and east of the Danube. The district consists among others of the districts Strebersdorf, Stammersdorf and Donaufeld. Floridsdorf experienced an extraordinary population growth since the end of the 19th century. Parts of the Old Danube and parts of the Danube Island belong to the district area.
Wien 21.,Floridsdorf: Contact information
Wien 21.,Floridsdorf: Neighboring municipalities
Wien 21.,Floridsdorf: Main postcode (ZIP code): 1210
Towns & cadastral municipalities: Wien, Floridsdorf, Wien.