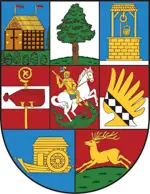 Wien 22.,Donaustadt
Bezirk
---
Basic information
Name

Wien 22.,Donaustadt

Status

Bezirk

Population

187.007

Territory

102,31 km²

Population Density

1.755,01 people/km²

Federal State

District

Car plate

W

Topography

Landscape

Constituency
Surface use
Wood

16.34%

Alps

0.01%

Rocks

0.00%

Fields, pastures

25.95%

Permanent crops

2.61%

Viniculture

0.01

Operational areas

5.90%

Leisure areas

5.92%

Gardens

14.62%

Rivers, brooks

4.26%

Lakes, ponds

4.30%
Individual analyses & visualisations
Wien 22.,Donaustadt: Description
The twenty-second municipal district of Vienna is a Viennese outer and territorial district located in the east of the city and also east of the Danube. The district is the largest of the city in terms of area. It includes the districts Kaisermühlen, Kagran and Stadlau. Another special feature is the high proportion of green space. Historically, the Battle of Aspern in 1809, which took place during the Napoleonic Wars on the district's territory, is particularly noteworthy. The population development since the end of the 19th century is also remarkable. In addition to the many bathing opportunities, the district is also characterized by the Vienna International Center, the UN SItz, and the Danube Tower. Parts of the Old Danube as well as the Danube Island are also part of the district. The Lobau district is also part of the Donau-Auen National Park.
Wien 22.,Donaustadt: Contact information
Address

: 1220 Wien, Schrödingerplatz 1

Telephone

: +43 1 4000-22000

Website

: wien.gv.at

Email

:

[email protected]

Mayor

: Dr. Michael Ludwig
Wien 22.,Donaustadt: Neighboring municipalities
Wien 22.,Donaustadt: Main postcode (ZIP code): 1220
Towns & cadastral municipalities: Wien, Donaustadt.