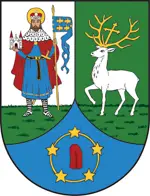 Wien 2.,Leopoldstadt
Bezirk
---
Basic information
Name

Wien 2.,Leopoldstadt

Status

Bezirk

Population

105.574

Territory

19,24 km²

Population Density

5.334,45 people/km²

Federal State

District

Car plate

W

Topography

Landscape

Constituency
Surface use
Wood

12.17%

Alps

0.00%

Rocks

0.00%

Fields, pastures

0.00%

Permanent crops

0.24%

Viniculture

0.00

Operational areas

8.45%

Leisure areas

21.09%

Gardens

7.67%

Rivers, brooks

15.88%

Lakes, ponds

0.56%
Individual analyses & visualisations
Wien 2.,Leopoldstadt: Description
The second district of Vienna lies between the Danube and the Danube Canal and is named after Leopold I, an emperor of the Holy Roman Empire from the second half of the 17th century. The Leopoldstadt includes the Wiener Würstelprater, the Nordbahnviertel and local markets such as the Karmelitermarkt.
Wien 2.,Leopoldstadt: Contact information
Address

: 1020 Wien, Karmelitergasse 9

Telephone

: +43 1 4000-02000

Website

: wien.gv.at

Email

:

[email protected]

Mayor

: Dr. Michael Ludwig
Wien 2.,Leopoldstadt: Main postcode (ZIP code): 1020
Towns & cadastral municipalities: Wien, Leopoldstadt.